Meet Our Staff
Yair Shahak
Yair Shahak has devoted extensive study to Tanakh, Talmud, and numerous other works in the corpus of Judaic literature. At the age of 22, he was appointed a full-time Instructor of Hebrew at Yeshiva University, one of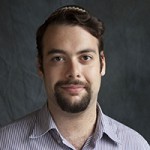 the  youngest full-time faculty members in the history   of the institution. After his first year of teaching he  was nominated by the student body for the Lillian F. and William L. Silber Professor of the Year Award. Also a cantor, composer and classically trained violinist, Yair is conversationally fluent in a large number of Semitic and Indo-European languages, both ancient and modern. His poetry has been published in Hador: The Hebrew Annual of America and his first book on Hebrew grammar is slated to be published in early 2012. He graduated magna cum laude with a B.A. in Bible, Music, and Hebrew Language & Literature, as well as an M.A. in Biblical and Semitic Studies, both from Yeshiva University. Yair comes to Rimon regularly to lead services in prayer and Torah-reading, and thoroughly enjoys all that Rimon and its congregants have to offer. He can be reached at linguisticharmony@gmail.com.
Michal Wiseman
Michal a Princeton University   psychology and neuroscience junior,   hails from Teaneck, NJ, and went to  Ma'ayanot Yeshiva High School for Girls. She  graduated high school in 2011, and then spent a year studying Bible and Talmud in Jerusalem at Midreshet Lindenbaum. On  campus, she is involved in the Center for Jewish Life and is president of the orthodox community on campus .
Josh Pitkoff

 Josh  Pitkoff  now a junior  at Princeton University is from  Pound Ridge, NY, and went to SAR High School  .  He spent  a year at Yeshivat Ma'ale Gilboa in Israel before starting  college. The past three  summers , Josh has worked as a counselor for teenagers at Camp Yavneh.  
On campus, Josh a  philosophy major, is a Residential College Advisor, a student member of the University's Committee on Discipline, and President of the Center for Jewish Life student board .
Rabbi Cary Friedman
earned a Masters degree from Columbia University and  semicha [Rabbinic ordination] from Yeshiva  University. We are fortunate to have Rabbi Friedman  serve as our community scholar for the upcoming year. He is the author of five books, including Marital  Intimacy, Spiritual Survival for Law Enforcement, and Wisdom from the Batcave.  He has spoken at the FBI Academy, the FBI Training Network, International Conference of Police Chaplains, TX Department of Public Safety, and CT Department of Public Safety, and has appeared on The History Channel. Spiritual Survival for Law Enforcement has been translated into Russian, and Wisdom from the Batcave was the inspiration for the creation of the documentary "Legends of the Knight" (2014).Most important Rabbi Friedman is a very  engaging speaker and is a much sought after Speaker throughout the  country. He  will make you think deeply and connect to Judaism in ways you have never experienced. He is married, and he and his wife have six children.